ANDAVADOAKA · TULEAR · MADAGASCAR

Bungalows for total and absolute tranquility
The dwellings are immersed in the thorn bush forest of Madagascar facing directly onto the sea. Huge green spaces with 50 meters between buildings guarantee a peaceful and relaxing holiday for those who wish to be left alone. All the bungalows have direct access to a large beach where you can isolate yourself if you so wish.
All built with respect of local tradition, using local high quality material, the Valahantsaka Resort bungalows offer the maximum comfort; each one is provided with a safe deposit, mechanical ventilation and electricity 24 hours a day, so as to combine tradition with a high level of comfort.

PDF version
Details in the boxes below.
Bungalow Baobab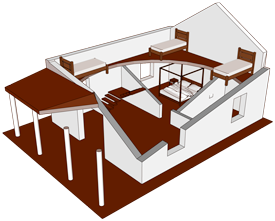 FAMILY SUITE
With its large living space, it recalls the majesty of the baobab tree.
Suitable for families of up to 5 people, with all comforts; the space is divided on 2 floors and includes a large terrace facing the sea and a comfortable living room.
The light color of the structure made of hand-cut local stone, contrasts with the warm tones of rosewood used for the interiors.
>>
Bungalow Euforbia
FAMILY BUNGALOW
Surrounded by euphorbia trees, dotted by bougainvillea, with a beautiful sea view, it can host up to 4 persons.
The bungalow is characterized by an intimate and relaxing atmosphere thanks to the interiors of high quality wood from Madagascar, combined with local floral fabrics. The attention to details and comfort are evident in the very particular furniture.


>>
Bungalow Coconut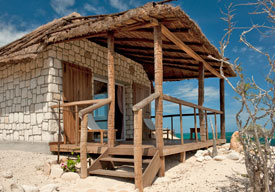 TWIN BUNGALOW
A small jewel suspended over the sea.Ê Located on a rocky headland overlooking the bay, the bungalow is ideal for those who wish to live moments of privacy, while experiencing direct contact with the sea. Provided with a large terrace, it can accommodate up to 3 persons. The comfort and the beauty which characterize all our bungalows are furthermore increased by the wooden sculptures carved by a local craftsman.


>>
Valahantsaka Resort
- Andavadoaka, Tuléar, Madagascar
Phone fix +261341400258 - Fax +39 0382 049 953 - Car +881631574886 - email:
resort@valahantsaka.com
Statistique 55103512010000265 Nif 3000463447